The United States of America officially has a new President. Joe Biden has been sworn in as the 46th President at his Inauguration Ceremony in Washington DC.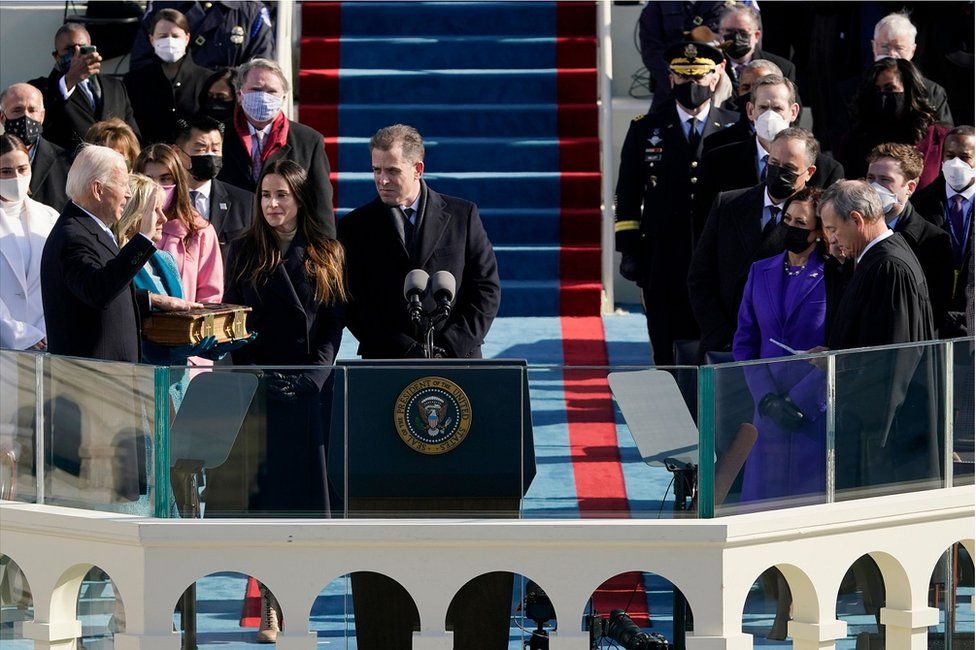 Biden, 78, became the oldest US President in history at a scaled-back ceremony that was largely stripped of its usual pomp and circumstance, due both to the coronavirus and security concerns following the January 6th assault on the US Capitol by supporters of outgoing President Donald Trump. No mayor incidents or disruptions were reported during the proceedings with the capitol under virtual lockdown and a huge security presence.
Kamala Harris made history as she was sworn in as the US's first female, black and south Asian Vice-President. The former California Senator was sworn in by Sonia Sotomayor, the first Latina on the Supreme Court.
In the middle of his last night at the White House, Trump pardoned or commuted the sentences of 73 people including his former campaign chief Steve Bannon, who was charged with defrauding donors who thought they were building Trump's wall. In his final remarks as president Trump said "It is my greatest honor and privilege to have been your president." I wish the new administration great luck and great success." But then a comment on future ambitions – "we will be back in some form."
Joe Biden's inauguration offered the American capital city a rare occasion for glamour, with Lady Gaga leading the way in a billowing ball gown and enormous dove brooch as she belted out a classic rendition of the US national anthem.
In what he described as the day of reset; Biden has signed a series of orders addressing the coronavirus pandemic, climate change and racial inequality, undoing some policies put in place by Trump. The actions, fulfilling his promise to move quickly including to initiate the process of the US rejoining the Paris climate accord.
The steps Biden is taking will end a travel ban Trump put in place on some majority-Muslim countries. He is also calling upon his administration to strengthen the DACA program for immigrants brought to the US as children.
He is also ordering the wearing of masks and social distancing in all federal buildings and on all federal lands and is ending a national emergency declaration that was the basis for diverting some federal funds to build a wall along the US-Mexico border.
HOW WORLD LEADERS ARE REACTING TO JOE BIDEN'S INAUGURATION
JAPANESE PRIME MINISTER YOSHIHIDE
"Congratulations to President Joe Biden and Vice President Kamala Harris on your inauguration. Japan and the United States are allies tied firmly by bonds and shared universal values. "I look forward to working with you and your team to reinforce our alliance and to realize a Free and Open Indo-Pacific."
EUROPEAN COMMISSION PRESIDENT URSULA VON DER LEYEN:
"The United States is back. And Europe stands ready. To reconnect with an old and trusted partner, to breathe new life into our cherished alliance. I look forward to working together with Joe Biden."
BRITISH PRIME MINISTER BORIS JOHNSON:
"I look forward to working with him (Biden), and with his new administration, strengthening the partnership between our countries and working on our shared priorities: from tackling climate change, building back better from the pandemic and strengthening our transatlantic security."
GERMAN PRESIDENT FRANK-WALTER STEINMEIER:
Today is a good day for democracy. In the United States of America, it has faced tremendous challenges – and endured. Despite the attempts to tear at America's institutional fabric, election workers and governors, the judiciary and Congress, have proven strong. I am greatly relieved that, today, Joe Biden is being sworn in as president and will be moving into the White House. I know many people in Germany share this feeling."
POPE FRANCIS, IN A MESSAGE TO BIDEN:
"Under your leadership, may the American people continue to draw strength from the lofty political, ethical and religious values that have inspired the nation since its founding." "I likewise ask God, the source of all wisdom and truth, to guide your efforts to foster understanding, reconciliation and peace within the United States and among the nations of the world in order to advance the universal common good."
SPANISH PRIME MINISTER PEDRO SANCHEZ:
"The (election) victory of Biden represents the victory of democracy over the ultra-right and its three methods, the massive deception, the national division and the abuse, even violent, of democratic institutions. Five years ago, we thought Trump was a bad joke, but five years later we realised he jeopardized nothing less than the world's most powerful democracy."
FRENCH PRESIDENT EMMANUEL MACRON:
"Best wishes on this most significant day for the American people! We are together. We will be stronger to face the challenges of our time. Stronger to build our future. Stronger to protect our planet."
ISRAELI PRIME MINISTER BENJAMIN NETANYAHU:
"Congratulations President Joe Biden and Vice President Kamala Harris on your historic inauguration. President Biden, you and I have had a warm personal friendship going back many decades. I look forward to working with you to further strengthen the US-Israel alliance, to continue expanding peace between Israel and the Arab world, and to confront common challenges, chief among them the threat posed by Iran."
PALESTINIAN ISLAMIST GROUP HAMAS SPOKESMAN FAWZI BARHOUM:
"There are no regrets at the departure of Trump, as he has been the biggest source and sponsor of injustice, violence and extremism in the world and the direct partner of the Israeli occupation in the aggression against our people."
TEDROS ADHANOM GHEBREYESUS, DIRECTOR-GENERAL OF THE WORLD HEALTH ORGANIZATION:
"Congratulations President Joe Biden and Vice-President Kamala Harris on your Inauguration today. Here's to a healthier, fairer, safer, more sustainable world!"