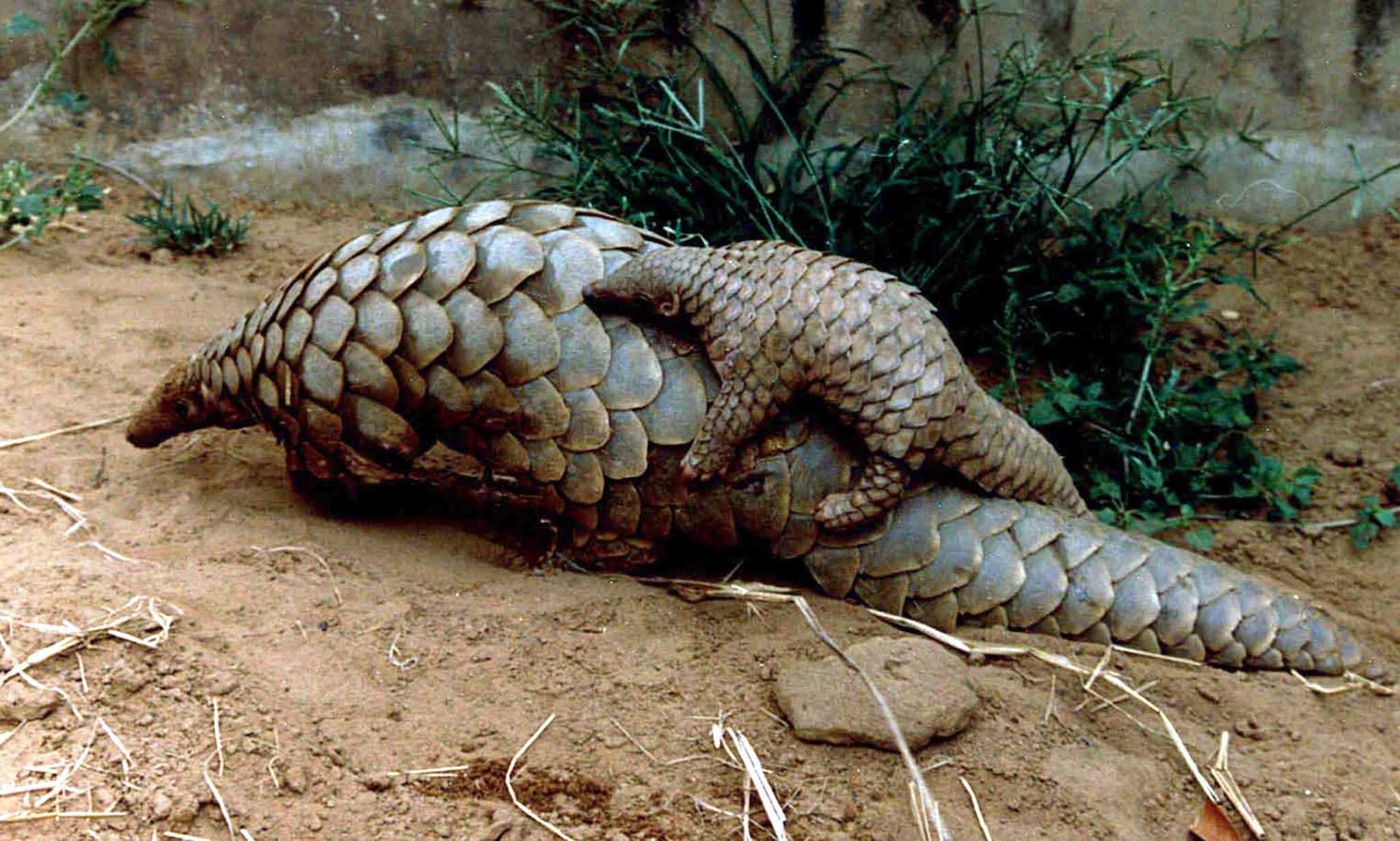 Thailand's proximity to China and Vietnam, the world's two top markets for pangolin scales, combined with its well-developed transportation infrastructure, are helping wildlife-trafficking syndicates to take root here.
In the early hours of a Sunday morning in March, officers manning a checkpoint in Prachuap Khiri Khan province were not fooled when an approaching pick-up tried to take a detour down a side road 300 metres away.
The officers gave chase and pulled the vehicle over. It's load of construction materials appeared innocuous enough, but the lumber could not disguise the odd odour and it did not take them long to uncover 18 sacks containing 76 live pangolins – among the most illegally traded endangered mammal species on the planet.
The driver, Sompol Mekchai, confessed that this shipment was valued at more than US$300,000 (Bt9.25 million) and that this was the third time he was hired to transport these shy, insect-eating, scaly animals, which have playfully been described by the International Union for Conservation of Nature as artichokes with legs and tails.
Sompol was paid Bt8,000 to drive these pangolins for 320 kilometres of their 4,000km journey, which began with their poaching in Indonesia and was to terminate in China. Their fate was to end up as an ingredient for Chinese traditional medicine and on dinner plates.
However, Pol Lt-Colonel Adtapon Sudsai, from the Natural Resources and Environmental Crime Division (NED), had mixed feelings. After nearly a decade of fighting wildlife crime under his commander Pol Maj-General Panya Pinsuk, Adtapon suspected Sompol would likely be back on the road again.
Though he could have been thrown behind bars for four years for trafficking an endangered species, he was set free after paying a Bt40,000 fine, as prosecutors claimed they could do nothing because he was not directly involved in the sale of the endangered animals.
Sompol's arrest also resulted in no new information to help Adtapon strengthen the cases against any of the Thailand-based ring-leaders who have played a role in the epic growth of global pangolin trade, resulting in all eight species of pangolin being brought down, with two to near-extinction.
Adtapon's frustrations are felt elsewhere too. The United Nations, many western countries and leading NGOs, especially the Bangkok-based Freeland Foundation, have for a long time helping Thai authorities overcome challenges that have allowed the Kingdom to become a hub of what is now a US$20 billion wildlife trafficking industry.
The illegal trade in pangolins represents a significant part of this market. An estimated 20 tonnes are trafficked annually, captured from their native habitats in Africa, Malaysia and Indonesia, with the vast majority of the animals, or just their scales, being delivered to customers in China and Vietnam.
As USAID's Wildlife Asia programme notes: "Many shipments of rhino horn, elephant ivory and pangolin carcasses and scales have been seized in Thailand, especially at the Bangkok Suvarnabhumi International Airport. While these high-profile seizures are to be commended, the criminals involved often walk away unpunished."
One of the most slippery kingpins, asserts Petcharat Sangchai, director of Freeland-Thailand, is Daoruang Kongpitak, a 43-year-old Thai-Vietnamese woman they have been tracking for more than a decade now. She operates a commercial tiger zoo in Chaiyaphum province, about halfway between Bangkok and Laos, believed to be a major transit point for wildlife smugglers. Her facility was raided in 2010 and again in 2014, when up to Bt200 million worth of assets were seized, but returned to her on appeal two years later.
"We always find ourselves one-step behind," Petcharat says. "The network frequently changes tactics and financial routes to avoid legal punishment. Closer cooperation from neighbouring countries are crucial as the network involves agents in Thailand, Laos and Vietnam."
Without naming names, Adtapon said he has been tracking a Thai-Vietnamese woman in Thailand, who he believes has amassed a fortune through wildlife trafficking. She apparently has strong connections, and her family in Vietnam is believed to be running a wildlife trafficking network there, while senior officials in Thailand may be helping her maintain her illegal enterprise, he says.
She works with China's top pangolin traders, who often transfer money to her through several bank accounts in the names of her Thailand-based family, he said. The deposits of each bank account are kept below Bt2 million, to escape regulations mandated by the Bank of Thailand.
Adtapon's investigative team also acknowledges that this woman has a key partner in Songkhla province known as Bang Yee, who has strong connections with poachers in Indonesia and Malaysia, and has now established himself as a primary coordinator for bringing wildlife into Thailand with onward transit to Laos.
The preferred smuggling route through Thailand, Adtapon says, is through Songkhla, where the animals arrive either by boat or by road from Malaysia. Then they are driven 1,600km north to Nong Khai, which is just opposite the Lao capital, Vientiane.
Adtapon reckons that approximately Bt1 million is charged to deliver each shipment from Thailand's South to the banks of the Mekong River, where Lao and Chinese traffickers take over to complete the delivery.
According to Adtapon, the price of a live pangolin is Bt500 per kilogram, which jumps six-fold by the time they reach Laos and goes up to Bt4,000 per kilo upon arrival in China. Dead pangolins, however, are worth only Bt1,000 per kilogram in China.
"Since the returns are very high, an arrest doesn't hurt their profits, especially when the arrest rate is very low. Though arrests drive up their costs, which is about Bt400,000 per shipment, this illegal business remains attractive," he says.
In order to ensure the animals arrive at the Lao border alive, efforts are made to keep their transit time in Thailand to below 24 hours. Drivers typically stop twice to refuel and to provide water for their illegal cargo. Small petrol stations in Chumphon province in the South and Nakhon Ratchasima in the Northeast are their main service points.
The only information drivers have is a temporary phone number and details of the pick-up and drop-off locations.
Previously, hundreds of animals were moved in a single shipment, but the numbers have reduced now that the authorities have stepped up their searches. Now traffickers use vehicles modified to provide dedicated spaces to conceal the pangolins. While these vehicles only carry 40 to 50 of the animals, they are far more effective at evading detection, says Adtapon, adding that this has only put more smugglers on the road and has had no impact on the wildlife trafficking.
Further, he says, drivers are typically not alone as appeared to be the case with Sompol. Advance teams usually inform drivers about upcoming checkpoints and other obstacles that could impede their journey. Also, back-up teams are ready to provide help if the driver encounters trouble, including engaging police officers to create a diversion, so the driver can evade possible capture.
A source with the Department of National Parks, Wildlife and Plant Conservation, who requested anonymity, says most of the pangolins entering Thailand come from Indonesia. They pass through one of three Thai-Malaysia border crossings – Sadao in Songkhla, Betong in Yala and Sungai Kolok in Narathiwat provinces.
"In Sompol's case, we suspect the pangolins come from Indonesia in a trawler, [arriving at Myanmar coast], before entering Thailand at the Dan Singkhon checkpoint in Prachuap Khiri Khan province," the source adds.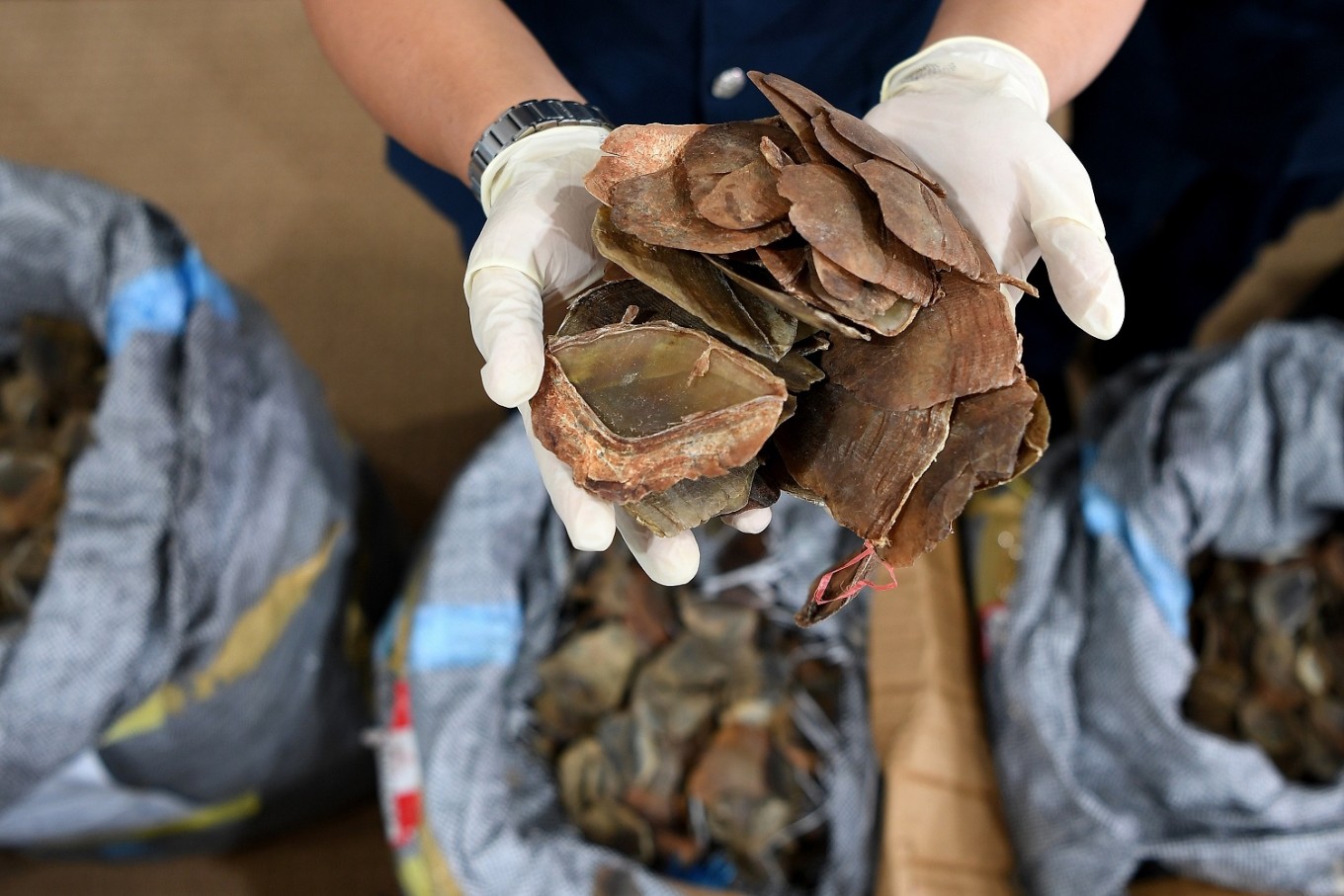 The source also speculated that pangolin smugglers may also be using roads heading West toward Thailand's border with Myanmar, as opposed to Northeast towards Laos, then onward to China. A police team captured a pangolin smuggling gang in Kanchanaburi province a few years ago that was suspected of using such a route.
A source stationed at the Dan Singkhon border crossing, who also requested anonymity, said that while there is no record of arrests at this crossing into Myanmar, it does not indicate that pangolin traffickers are not using this route.
About 20 per cent of a pangolin's weight is contained in its thick, protective scale made of keratin, the same material as human fingernails. When threatened, pangolins curl into a ball, using the scales as armour to defend themselves.
Traditional Chinese medicine practitioners believe these scales can treat a variety of human ailments. Some 200 Chinese pharmaceutical companies produce up to 60 types of traditional medicines that contain pangolin scales, contributing greatly to the rise in pangolin trafficking.
Dried pangolin scales are far easier to transport and much harder to detect than live pangolins. They fetch an even higher price, upwards of Bt40,000 per kg. African traders have emerged as a major source, especially since China's President Xi Jinping announced a ban on domestic sales of ivory in 2017, causing wildlife smugglers to turn to the increasingly beleaguered pangolins, since they can be legally sold in both China and Vietnam.
Chaiyut Kumkun, a spokesperson for Thailand's Department of Customs, explains that commercial airlines are the preferred mode of transport for African pangolin scales. They generally originate from Nigeria and the Congo, and often transit through Suvarnabhumi airport, though Hong Kong and Vietnam are also the biggest destination ports.
From 2013 through mid-2016, Thai custom officials intercepted five pangolin shipments at Suvarnabhumi Airport worth a combined value of Bt6 million. Then in December 2016, they seized two shipments totalling 2.9 tonnes of pangolin scales valued at Bt116 million. The contraband was shipped from the Congo, smuggled through Turkey and eventually bound for Laos.
At least 6,000 pangolins would have to be killed to gather 2.9 tonnes of scales.
"We are aware that pangolins are a top concern within the international community, so we have been closely working with both domestic and international partners to detect illegal shipments. Fortunately, we have seen a declining number of illegal pangolin imports via Suvarnabhumi," Chaiyut says.
He suspects the department's installation of 1,647 CCTV cameras in Suvarnabhumi, along with more X-ray machines to scan cargo and increased deployment of cargo e-tracking systems have collectively worked to deter smugglers from using Suvarnabhumi as a transit point.
The apparent success at Suvarnabhumi is certainly a positive sign, he says, but adds that Thailand is a long way from shutting down its pangolin trafficking infrastructure.
"Wildlife trafficking is a transboundary issue and we are in the middle. We have tried our best to scale down the problem by blocking the illegal trade as much as possible. But it cannot be fully achieved until we get full cooperation from all stakeholders," Chaiyut says.