A warning that Thailand's strict smoking laws are about to be enforced has given during a meeting with Cha-Am bar owners.
Cha-Am bars have been placed on notice that Thailand's strict no-smoking regulations; to date largely ignored by both bar owners and their clientele, are about to be enforced. Penalties for smoking in prohibited areas, including bars and restaurants, include a maximum fine of 5,000 THB.
The news has rapidly spread via social media with comments about how this will affect areas where small bars are side-by-side. As smoking is forbidden within 5 metres of a bar entrance, popular sois such as Soi Bus Station in Cha-Am and Soi Bintabaht in Hua Hin are theoretically required to be smoke free. It's long walk for smokers to be out of range of smoke free zones when bar entrances are less than 10 metres apart.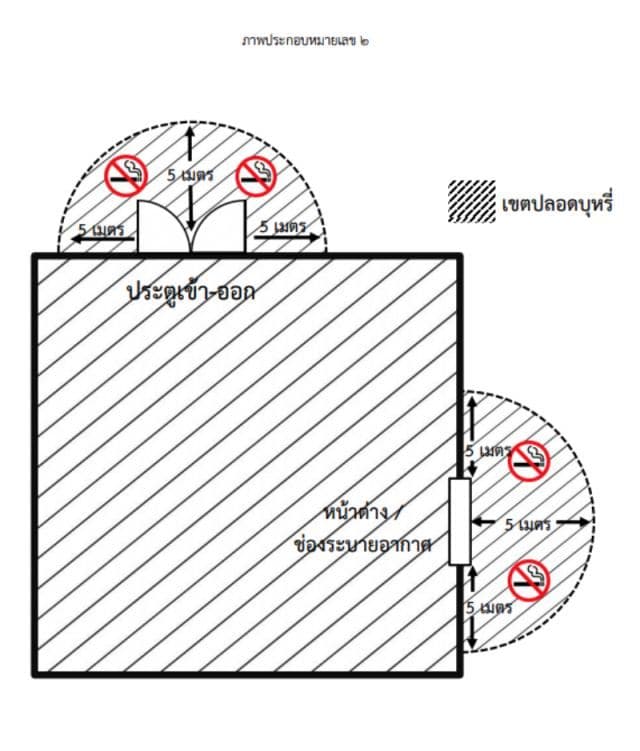 The Ministry of Public Health guidelines have been promulgated in the Royal Gazette. The key point of the law is that there are 5 metre 'exclusion zones' outside public entrances and exits where it is illegal to smoke. .
---
---
More than 80 types of buildings and venues are covered including:
amusement parks and water parks
banks/cash machines/ATMs
cinemas and other entertainment venues
condos, apartments & rental buildings
fitness parks and gyms
government offices
hospitals and clinics
hotels
airports
grocery stores
libraries
laundries
massage and spa venues
public parking areas
pubs
religious buildings
restaurants
schools and nurseries
shopping malls
swimming pools
toilets (public toilets)
various transportation areas including bus stops, piers and taxi/mini-van stands
In some cases, designated smoking rooms or zones will be allowed at transportation hubs and other venues.
In addition, no smoking signs must be posted clearly stating in Thai and English that smoking is not permitted within five metres with a circular logo of no less than 10 centimetres in diameter.
No Smoking at Thai Beaches
These regulations add to existing laws which prohibit smoking at many beaches. There is a significant difference as beach bans are based on marine park law. Offenders lighting up at a beach subject to this ban are subject to maximum penalties of one year in jail or a 100,000 THB fine.
---
Vaping Ban
Thailand also prohibits vaping and e-cigarettes. Although this law isn't always enforced, there have been cases of tourists being arrested for vaping in public, including at least one case resulting in deportation.
Despite enforcement being sporadic and discretionary, ignoring these rules gives police the means to reduce your spending money, especially in Cha-Am!
The old adage that 'ignorance of the law is no excuse' means that if someone breaks the law, he or she is still liable, even if they had no knowledge of a law being broken.